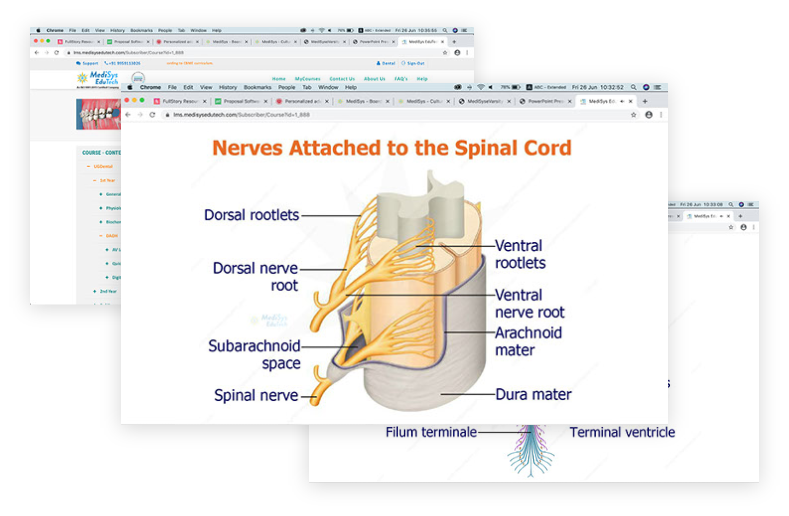 Online on-campus and teaching as also Self-directed learning.
Consistent teaching, learning and assessment________. Assurance and resiliance.
.
Reimagining Delivery of Healthcare Education Using ICT and Simulation.
Content / Platform and design / __________.Access from anywhere by anyone and at time. Connecting with other teachers and tutors online.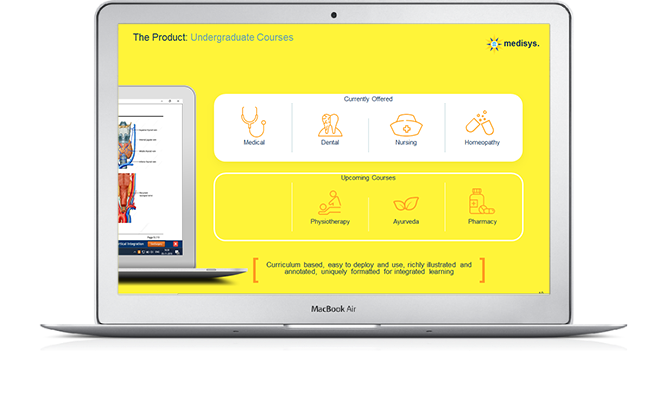 Medisys LMS Thrives on a Tripod of Design, Sustainability and Universality

Design
One that allows swift and easy access to a range of materials, deeper learning from visuals, simpler text, better integration of pre/para clinical sciences with clinical practice. Easy to use aids for self-directed learning. A range of faculty aids designed to enhance efficiency of teaching. Support remedial education. Improve Standards of assessment and overall learning outcome.

Sustainability
Significant partnerships and collaborations with respected institutions and subject matter experts for raw content sourcing and product reviews. A new ICT / LMS architecture well suited for raw content sourcing and product upgrades. A commitment to nurturing a unique talent mix, a frugal culture, a deep commitment to social impact.

Universality
An ability and willingness to customise locally relevant cases, and working with popular and competent local teachers. A cherished goal of translations into major global languages. Relentless focus on affordability and access.
A feature rich repository of learning material, question banks and analytics.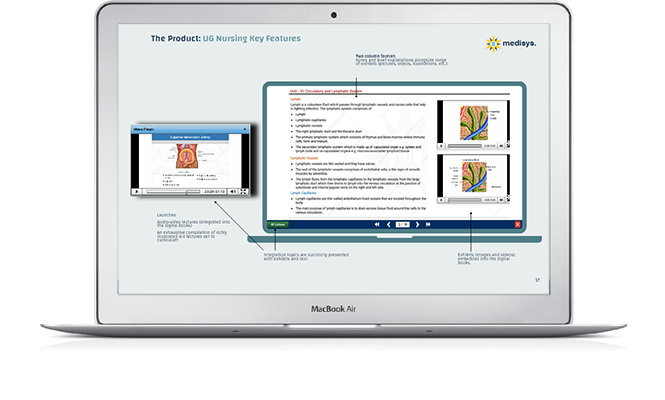 Over 5000 Audio-video lectures: with illustrations, animations, charts, procedure videos, etc.
A Comprehensive set of laboratory sessions/DOAPs and cadaver dissections with commentaries.
Over 6000 Topics in a Digital book: brief notes and a range of exhibits.
30 Early Clinical Exposure modules.
over 500 bedside clinics.
About 2000 small group discussion modules.
Medical foundation courses and a course in attitude, ethics and communication and other essential skills.
84 Defined certifiedsSkills modules.
SmarTeach Server in India, connected to cloud for maintenance and remote updates.
More than 50000 objective questions and a large number of descriptive questions in a questions bank, a platform for formative assessments and analytics.
Why Medisys ?
Easy and Intuitively designed for students and teachers to navigate through it.
Teachers can use share screens, scribble on a pad features while registered class can see concurrently. Easy for a teacher to teach online and anchor the class very well within defined frameworks.
Run group exercises of various kinds with a two-way communication provided its a small group. The return communication happens by way of audio and text.
LMS also allows an authorised person to send notifications or alerts and leave a message for the entire class. Those authorised to receive it will receive it.
Provision to use all the attachments and question bank by medisys.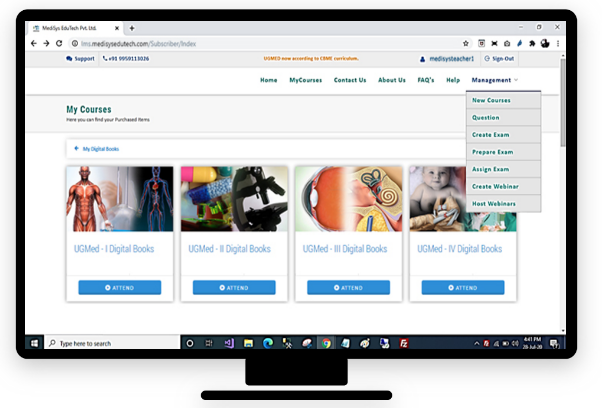 You're in good Company
Ch. Sirisha Reddy
Sri Padmavathi Medical College for Women
R. Nikitha
Sri Padmavathi Medical College for Women
Abhilash
Kamineni Academy of Medical Sciences and Research Centre
Learn from anywhere anytime!
Digital learning on your own device. Just download the app or login through your browser and start your journey with Medisys
Launching Soon